The Buffer Integration allows you to connect Buffer profiles and snip any links you add to your queue. If you'd like to easily create Sniply links while in the Buffer dashboard/extension, check out our Sniply Extension with Buffer Support.
Buffer Integration
If you're already using Buffer to intelligently schedule your posts across multiple platforms, you know how useful social media management can be. What's even better? All the power and capabilities of Sniply integrated with your Buffer posts – all without any extra steps in your workflow!
Using the Sniply Buffer integration, you can easily connect your Buffer profiles. You can then turn on the Sniply integration for each Buffer profile. Each Buffer Profile can be setup independently, turned on or off, and connected to a specific Sniply Call-to-Action.
Connect Buffer
First, you'll need to connect your Buffer account, so we can edit your Buffer posts. We will only edit posts from Buffer Profiles you turn on, and the Buffer integration can be disabled at any time.
To start, head over to https://snip.ly/dashboard/buffer/ and click the green "Connect Buffer" button.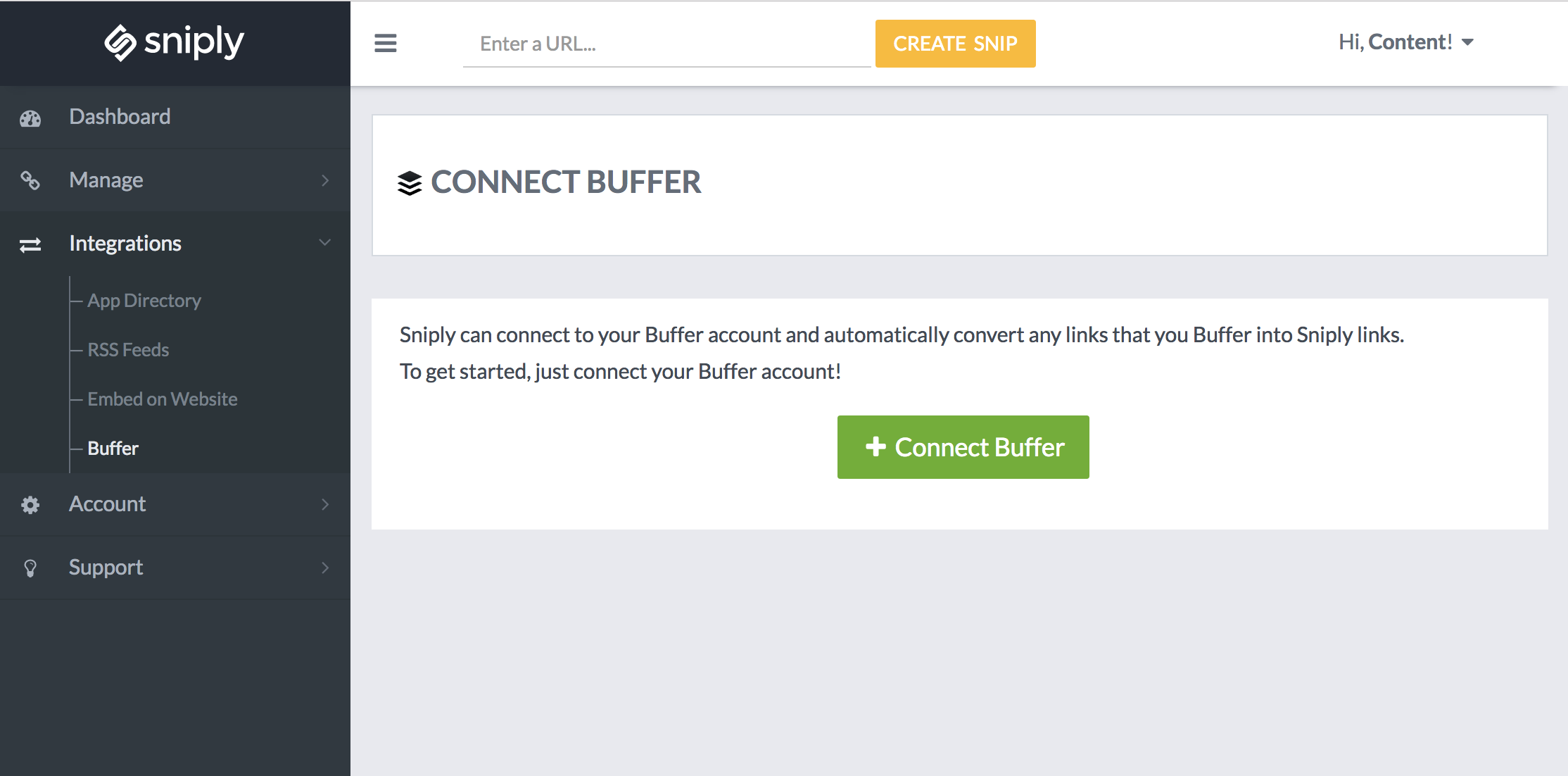 A popup window will appear from Buffer confirming the request. Click the "Allow access" button.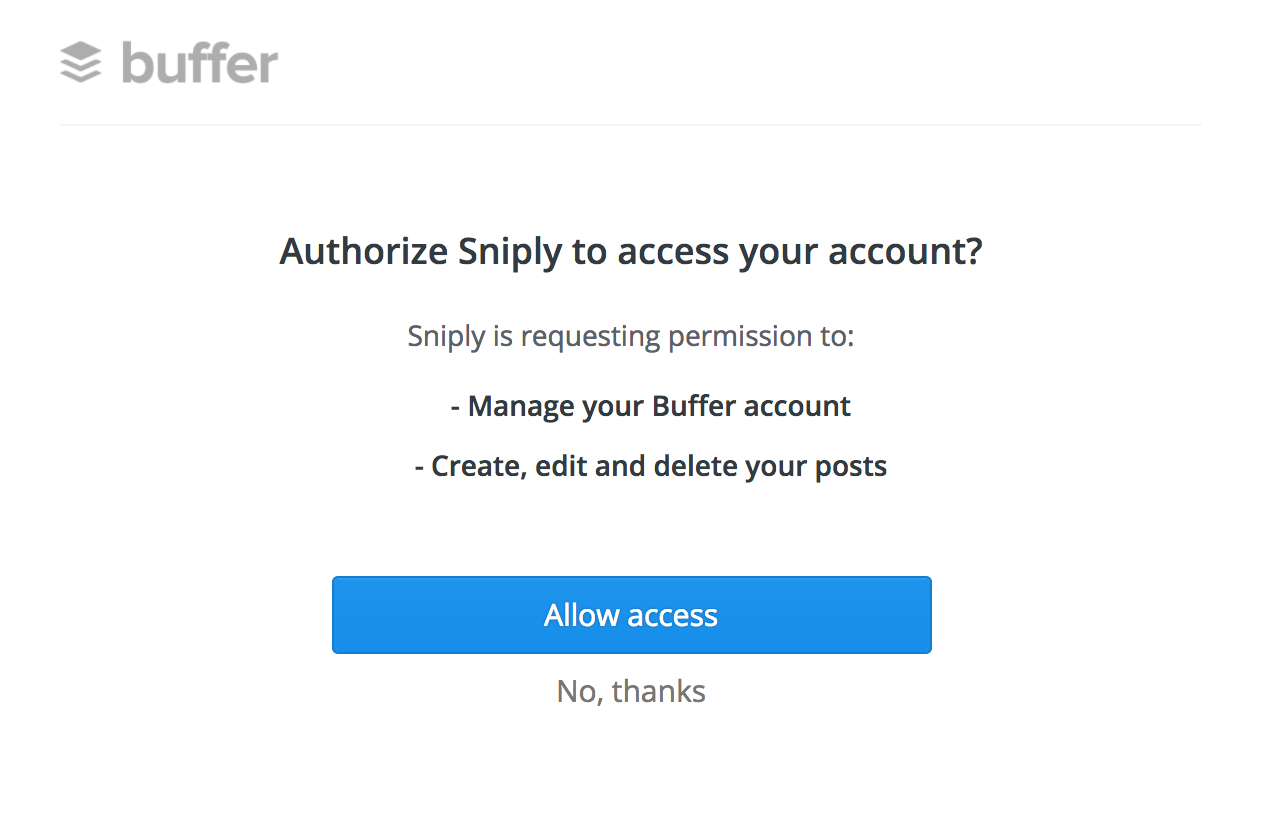 You're all connected!
Set up your Buffer Profiles
You'll now see a list of your Buffer Profiles. For each, you can turn on or off AutoSnipping as well as pick which Call-to-Action you'd like to use.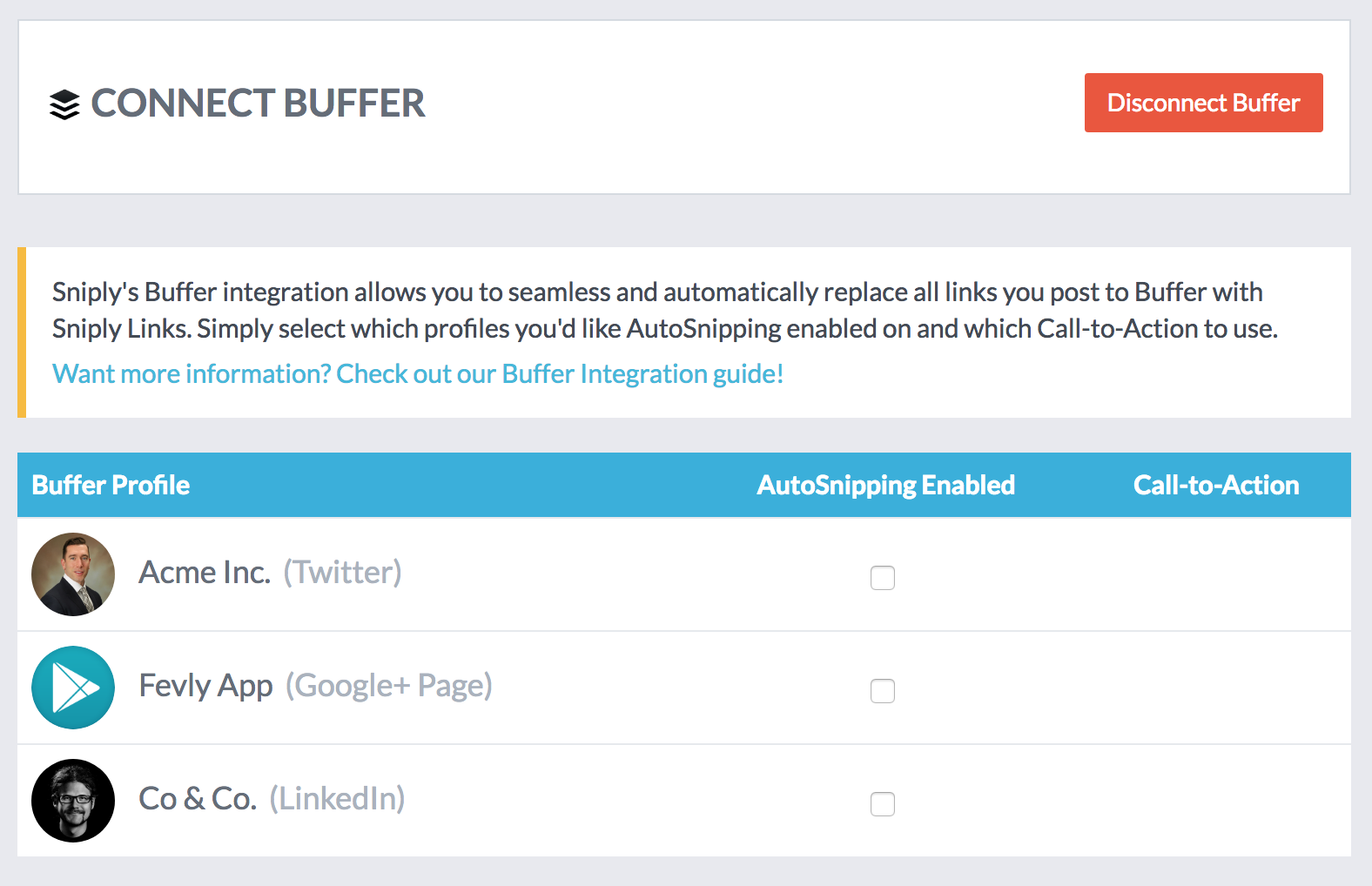 To enable AutoSnipping, simply click the checkbox next to the profile in the table. You can then select the Call-to-Action you'd like to use by selecting one from the dropdown. Any changes are automatically saved.

You're all set! All the links in your queue will be snipped, as well as any new ones you add in the future.
🟥 Important:
Sniply only replaces links for the scheduled posts, not for those directly shared without using the scheduling feature (note: Buffer has two options "share now" and "schedule post" - Sniply will replace links only for scheduled posts).
Sniply custom domains, if you have them on your account, will be used for Buffer links.
If you add a custom domain to your brand after Sniply had already replaced your Buffer links with snip.ly links for your scheduled posts, Sniply will not replace the already-replaced links once again. Your old scheduled links will remain to be snip.ly links, and any newly scheduled link will be replaced with your custom domain link.
Buffer links are scanned and replaced with Sniply links every ~5 minutes.
The custom domain is picked based on the brand that holds the CTA that you chose to show up on your link.